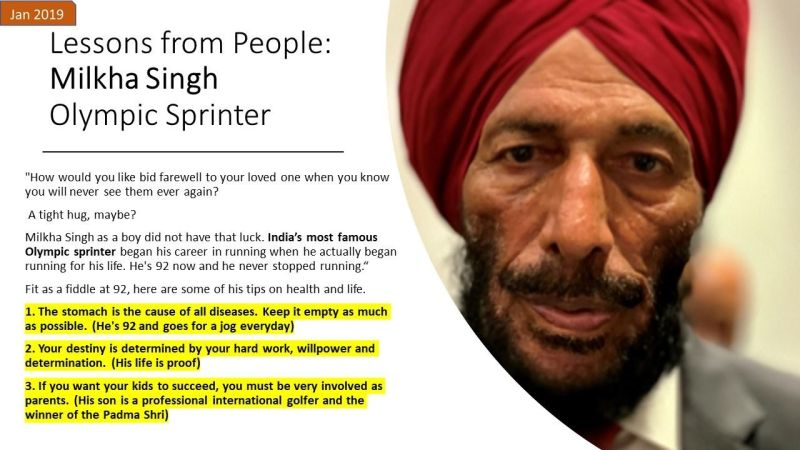 I once had the honor of chairing an event where Milkha Singh was a guest speaker. I had done a lot of research and introduced him to the audience with so many details of his life. Milkha asks me, "How come you know so much about me?". I answer, "Google, sir". And he just laughed at my answer. Its a tragedy we lost the 91-year old inspiring Olympian to COVID.
Here are my notes.

How would you like bid farewell to your loved one when you know you will never see them ever again?

A tight hug, maybe?

Milkha Singh as a boy did not have that luck. India's most famous sprinter began his career in running when he actually began running for his life.

A victim of India's partition from Pakistan which saw more than 14 million displaced and about 1 million deaths. Milkha Singh escaped on a fateful night and boarded a train to Delhi in a ladies compartment, roamed Delhi as a disenchanted youth for years and then worked in a small roadside eatery until he finally got into the Indian army in his 4th attempt.

It is here that he finds his calling as sprinter. He goes on to win many medals for India and loses out winning the bronze. He explains why so well. He reluctantly returns to Pakistan to settle a score with a rival whom he beats hands down and it is here the Pakistani President titles him the Flying Sikh something he acknowledges with gratitude.

Milkha Singh was promoted from the rank of sepoy to junior commissed officer in recognition of his successes in the 1958 Asian Games. He subsequently became Director of Sports with the state government from which post he had retired by 1998.

Singh had been awarded the Padma Shri, India's highest award following his success in 1958.

A recent Bollywood biopic of him revived his memories and became a blockbuster – all adding to his aura.

Fit as a fiddle at 92, here are some of his tips on health and life.
1. The stomach is the cause of all diseases. Keep it empty as much as possible. (He's 92 and goes for a jog everyday)
2. Your destiny is determined by your hard work, willpower and determination. (His life is proof)
3. If you want your kids to succeed, you must be very involved as parents. (His son is a professional international golfer and the winner of the Padma Shri)