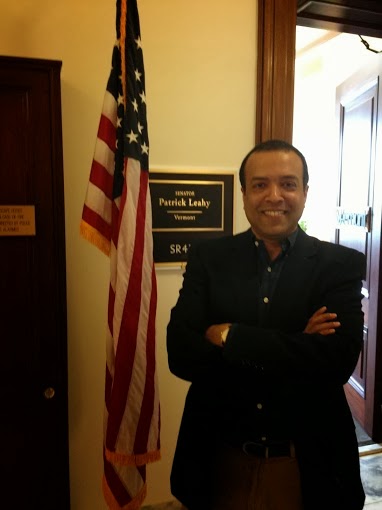 In Senator Patrick Leahy's Office in 2013
My interest in the EB5 grew when I was reading about the hopelessness of quality education for the youth of India.

Chetan Bhagat wrote that a 100 lac students write the X11 class exams every year. Let's say that 10% of them need quality education. That's 10 lac quality seats.

Let me categorically state it here: There are no 10 lac quality seats in India.

If there are a few, then your child need to score no less than 95%. If your child got 90%, there are no seats. There is no place for overachievers. There is no private participation in education because there is no incentive to – Indian education institutions are not supposed to make a profit!

Education is a high priority item for every middle class Indian. The tragedy is that the money does not buy quality education. Hence, Indians are now seeking education abroad.

In that context the EB5 Visa makes a lot of sense.


It allows the family to get a green card, the kids to enter the US as Green Card Holders, get cheaper tuition and study loans. Not only that, they are allowed to apply for US jobs without a sponsor.

A green card that normally takes 15 years if a family member is willing to sponsor you or 6-8 years from the F1-H-1B path, comes to you in 6-8 months!

This is the best value for money. There is no comparable investment.

The EB5 is not only for parents with students but it is for anyone looking to live & settle overseas. It is very helpful for those seeking to be in business. The USA is a great place for entrepreneurs.

There is no other marketplace like the US. It is helpful for those professionals who want to seek employment and who find it difficult to get an H1B which is based on a lottery system.

It is great for those seeking to retire in the US. Older citizens over 55 years may choose the US as a place to retire.

It is good for US Green Card holders & citizens who want their parents to join them & don't want to wait for regular processing time.

The EB5 is not only fast, it does not have the strict requirements of other channels. There is no requirement for age, English or experience. You may not qualify for a visitor visa, or a work visa or a student visa – but you just might qualify for a green card if you have $500,000 to spare.

The EB5 Visa buys you a green card for the whole family -your spouse and unmarried children under 21 years. Whatever the recent news of 9/11 or recession be, there is no place on earth like America and it still remains the last hope for many in the world who want to lead a better life.

America stands for much more than its money. It is rich in so many ways – for the true freedom it stands for – this translates in all spheres of life from doing what you want to do, being who you want to be and saying want you want to say.

Quite often people ask us, "Which one is better?" The USA or Australia? Or USA or Singapore. Our answer is: There is no comparison. The USA has 50 states – most of which individually are bigger and richer than the countries we want to compare. Some cities in the USA are bigger than the countries. California is the 7th largest economy in the world. So when you zoom into the USA, you will find states, cities, neighbourhoods, university campuses and companies that no other country can replicate in our lifetime.

America is undoubtedly good for the family, for work and business and for the future. The successful EB5 program has been extended to 2015.

But if you don't apply on time, you may lose out on the once-in-a-lifetime-opportunity.

The urgency could be that your kids are passing out of school or turning 21.

It is wise to apply before the queues for the EB5 gets longer and the amount required is only USD$500,000.

And what's more – US real estate is still available at a bargain.

Apply now for the EB5, and five years later, when your money comes back – with returns – you will realize that you certainly made the wisest decision in your life.